Chester Civic Trust announce winners of 2020 'Good, Bad and Ugly' awards
THE Chester Civic Trust which celebrates its Diamond Jubilee this year, has given its verdict on the best examples of new development, renovation of existing buildings and community projects in its annual Good, Bad and Ugly awards for the City.
Now in its 14th year, the awards highlight Chester's buildings, places, spaces and projects in an alternative 'New Year Honours list'.
Nick Clarke, chairman of the judging panel and Partner at law firm Aaron and Partners, said: "These annual awards are based on nominations from our members. They aim to recognise the best changes to the Chester scene in the past year. We hope they will encourage higher standards of design and maintenance in our public realm."
Chair's Award – the revitalisation of Chester's indoor market.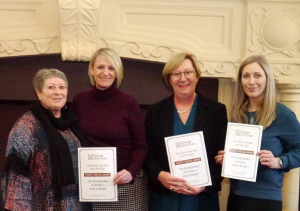 The judges said: "This was one of two projects which received multiple nominations. The judges were unanimous in their praise for the combined efforts of the traders and the Council in turning t
he market back into a vibrant facility that is a credit to all those involved and a real asset for the City. There was particular praise for the Friday night openings.
This is an excellent example of what can be achieved in an unpromising space. We hope that the Council will ensure that this reinvigoration is transferred to the new market hall when it is constructed."
The Good – Deewater Grange Chester Road, Huntington
The judges said; "The first of this year's two good awards goes to Deewater Grange, a residential home. The judges were impressed with the extent to which care had been taken with the design which has resulted in a building that fits superbly in its environment. It would have been easy to build something functional without reference to the street scene and the developers deserve credit for avoiding that all too common approach."
The Good – Hotel Indigo Grosvenor Park Road
The judges said; "The second Good award goes to Hotel Indigo on Grosvenor Park Road. The judges praised both the exterior and interior design noting that the exterior design provides a nod to the John Douglas houses opposite but with a thoroughly modern interpretation. The interior is tremendously individual and it's well worth a visit for a drink or something to eat."
The Good – Commended – George Street Pocket Park – The judges said; "This was an unmaintained and ugly space. It has been transformed into an attractive and very useable area offering good views of the Walls and carried out sympathetically to its historic surroundings."
The Good – Commended – St Mary's Handbridge Centre – The judges said; "St Mary's Handbridge Centre is a newly built parish centre offering a versatile, modern space that serves all the different needs of the local community. It received multiple nominations and was regarded by the judging panel as a very significant asset for Handbridge."
The Bad and Ugly – Maintenance of The Rows – The judges said; "The maintenance and cleanliness of the Rows is a perennial concern. We have highlighted this before but the Rows are so significant to the City that we are raising it again in the hope that the attention will ultimately lead to improvement. The judges acknowledge that improvement schemes are in place and it is hoped these will deliver tangible results in the near future."
The Bad and Ugly – The Bars underpass – The judges said; "The underpass below the Bars roundabout is an unpleasant and intimidating space with the section between Grosvenor Court and Foregate Street often flooded. Furthermore it is a very unpleasant way to arrive in the City centre by foot if travelling from the train station."
The Bad and Ugly – The Hydro-electric station – The judges said; "The decay of the former hydro electric building by the Old Dee Bridge is regrettable and it is hoped  that a solution can be found that will allow it to be restored and potentially opened to the public on occasion."
The Bad and Ugly – Boughton shop fronts – The judges said; "The shop fronts in Boughton between City Road and Steam Mill Street were nominated and the judges agreed that some of these are unattractive though they noted that many of the gateways to the City are unappealing."
The Bad and Ugly – Hunter Street student flats – The judges said; "The student accommodation at the bottom of Hunter Street divided the judges. No-one particularly liked the development, how bad or ugly it is was a matter of debate. However, the judges were unanimous in their concerns in relation to the car park which is due to be built next to it. That will no doubt be a matter for future judging panels to consider!"
Follow Us
Stay up to date by following us on Facebook and Twitter
The Chester Civic Trust
Chester Civic Trust
Bishop Lloyd's Palace
51/53 Watergate Row
CHESTER
CH1 2 LE
Telephone 01244 318415
admin@chestercivictrust.org.uk
Registered Charity number 504634