Chester Heritage Festival
Annually Chester Civic Trust partner with Cheshire West and Chester Council and a number of  other organisations to tell the story of our city and its people through the Chester Heritage Festival.
The programme is refreshed each year, the  2024  programme will be published on the festival website where you can see films and other content from the Festival. For more information about the plans for Festival follow on social media @chesterherifest, you can also subscribe to the Chester Heritage Festival  on YouTube.
At any time of year you can take a self guided walking tour around 40 0f Chester's most important buildings by following the Millennium Festival Trail which can be downloaded here: Millennium Festival Trail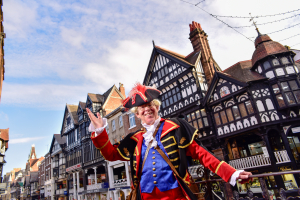 Follow Us
Stay up to date by following us on Facebook and Twitter
The Chester Civic Trust
Chester Civic Trust
Bishop Lloyd's Palace
51/53 Watergate Row
CHESTER
CH1 2 LE
Telephone 01244 318415
admin@chestercivictrust.org.uk
Registered Charity number 504634