Room Hire at Bishop Lloyds Palace
Rooms 1 and 2 are the main rooms for booking. Note that there is a small kitchen preparation area for hot or cold drinks and cold food. The room adjacent to the kitchen is suitable for an external caterer supplying hot meals.
We have two large meeting rooms which are available for hire, daytime or evening, seven days a week. Bookings can be made using the form below.
The rooms are suitable for a wide range of activities such as educational classes, public meetings, club and social activities, business meetings and conferences and social gatherings.
There is super-fast broadband, a projector screen, laptop stand, a 75" audio-visual TV monitor, if required.
Unfortunately, due to the historic nature of Bishop Lloyd's Palace, there is no lift. Therefore, the meeting rooms are only accessible by one flight of stairs from the Rows.
Room 1 is suitable for a maximum of 110 people standing or 60 people sitting.
The cost is £15 per hour
.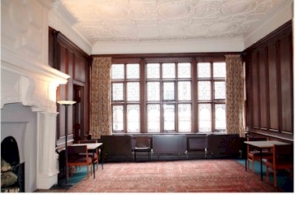 Room 2
is for a maximum of 100 people standing or 50 sitting.
The cost is £10 per hour.
Kitchen
The small kitchen is suitable for the preparation of sandwiches and other such items. There are sufficient plates, cups and saucers for 80 people. There is a refrigerator, a small microwave oven, a hot water boiler, a kettle and 2 large thermos flasks, 12 tumblers and 48 wine glasses. If a function in Room 1 requires more advanced food preparation, Room 2 can also be hired for this pupose. 
General View of the Kitchen.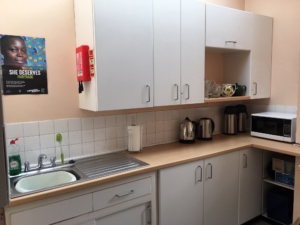 Room 3
This room is available for users of both Rooms and can be used by outside caterers for supplying hot meals or simply used as a break-out room for a quiet cup of coffee.
Room 3 This room is available for users of both Rooms and can be used by outside caterers for supplying hot meals or simply used as a break-out room for a quiet cup of coffee.
History of the Rooms
Room 1 The main features of Room 1 are the ornate seventeenth century plaster ceiling and the massive fireplace. These were not originally designed for this building. It is thought that both the ceiling and the fireplace may have come from the Bishop's Palace in Abbey Square, which was largely destroyed by parliamentary bombardment during the Civil War (1642-1646). St Anselm's Chapel, the bishop's private chapel, which still survives as part of the cathedral, has a plaster ceiling that is almost identical to the one in this room. Inventories of the Bishop's Palace record a massive fireplace and it would not have been unusual to remove these expensive features to a new building in the mid-seventeenth century.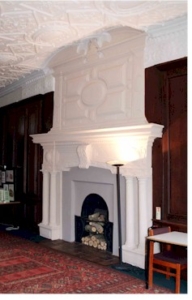 Room 2 This room also has a huge fireplace and beautiful wood-panelling. There are many interesting motifs including Tudor roses, horses, ship's wheels and starfish, also the Three Legs of Man which relates to Bishop Geoffry Lloyd who became Bishop of Chester in 1604 and who bought the rooms in 1605. Around the room is a sea-monster frieze, partly hidden by later wooden panelling. Watergate Street was the main route from the port of Chester so maritime designs are not unusual in this area
.
If you wish to discuss making a visit, contact:
Chester Civic Trust
Tel: 01244 318415
Please note the Phone line is only staffed between 12-2, Monday to Thursday, for a quicker response please contact us by email address or the online form below to make booking enquiries
E-mail: admin@chestercivictrust.org.uk
To make a booking enquiry please complete the form below and review the BLP Hire Conditions.
Privacy Notice for Hirers: Privacy Notice – Hirers
Follow Us
Stay up to date by following us on Facebook and Twitter
The Chester Civic Trust
Chester Civic Trust
Bishop Lloyd's Palace
51/53 Watergate Row
CHESTER
CH1 2 LE
Telephone 01244 318415
admin@chestercivictrust.org.uk
Registered Charity number 504634