Chester Civic Trust Diamond Jubilee
Chester Civic Trust will be celebrating its Diamond Jubilee in 2020.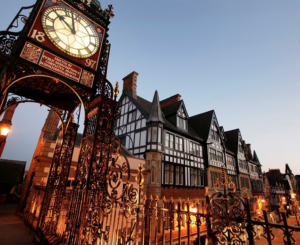 The inaugural meeting of Chester Civic Trust was held on the 7th January 1960 in the Blossoms Hotel. A group of concerned local residents had held a series of informal meetings during 1959 to discuss the major changes that were proposed for Chester. These included the construction of the Inner Ring Road, the demolition of the 1862 Market Hall, the development of the Grosveno
r Precinct and the disrepair of many historic buildings in Lower Bridge Street and King Street.
The immediate catalysts for setting up a civic amenity society in Chester were two particular proposals by the City Council. The first was to approve plans to demolish the 15th century Bluebell Inn in order to widen Northgate Street and the second was to support the proposal for an eight-storey office building on Frodsham Street that would obscure views of the Cathedral and the City Walls.
In 1960 the nascent Civic Trust successfully campaigned and harnessed public opinion against both proposals.  This eventually led to the City Council abandoning the plans. Over the ensuing 60 years, the Trust has continued to be an influential voice in Chester, lobbying for high standards of design in new developments, the protection of both the natural and built environment and the preservation and sympathetic re-use of historic buildings.
The Trust will hold a number of events during 2020 to celebrate thie anniversary.  The launch will be on Wednesday 15th January at 7.30pm at the Grosvenor Museum when TONY BARTON, the Chairman of Insalls Associates and STEPHEN LANGTREE, Vice-President of the Civic Trust, will give an illustrated presentation entitled 'AROUND the WALLS in 60 YEARS'. The speakers will highlight what changes have happened in the city over the life of the Civic Trust and the audience will be invited to consider what sort of changes will be appropriate for Chester over the next 60 years.
The event is free to members of Chester Civic Trust. Guests are welcome £5 on the door.